N8NZ Homepage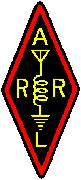 Welcome to my homepage. My name is Alan and I have been a licensed Amateur since May 1997, and my call is N8NZ. I started as a NO-Code Tech and upgraded to Tech Plus in January 1998. Then in April 2000 I upgraded to General. In December 2005 I tested for Extra and was awarded the rating in early January 2006. On March 7, 2006 I submitted an application for a Vanity Call and on March 25, 2006 it was granted. I went from being KF4JIL to N8NZ.
My station consists of a Radio Shack HTX10 10 meter mobile operating off a power supply and an Antron 99 Base Station Antenna. On November 11th 2003, I finally got the station set up after moving to a Deed Restricted Park. I received approval for one antenna to be mounted against the unit.
This page may seem a little confusing right now, as I am in the process of updating and upgrading it. Eventually I will have two pages, one for Ham related items and one for Personnal and Miscellaneous items.
This update was done on June 17, 2012.
---

Click on thumbnail to enlarge.


Antron 99 Base Station Antenna


<



This page is constantly under construction, please be patient.


LINKS to other Amateur Radio Related Sites



To E-mail me click on mailbox.